Welcome to Your Church
The Brunswick Heads Uniting Church is a dynamic group of people who celebrate and worship together in lots of different ways.
Our Church is a place where lives are changed through worship, learning, and community, and where people are empowered to change the world and make it a better place, following the example and teachings of Jesus.
Our congregation is a dynamic, down-to-earth group of people seeking spiritual nourishment, meaningful relationships, and ways to use their talents, skills, and knowledge to serve others.
We hope to meet you at worship, a special event, service project, or around the community. Please also feel free to connect with us via our Facebook page link in the bottom right hand corner. 
Upcoming Services: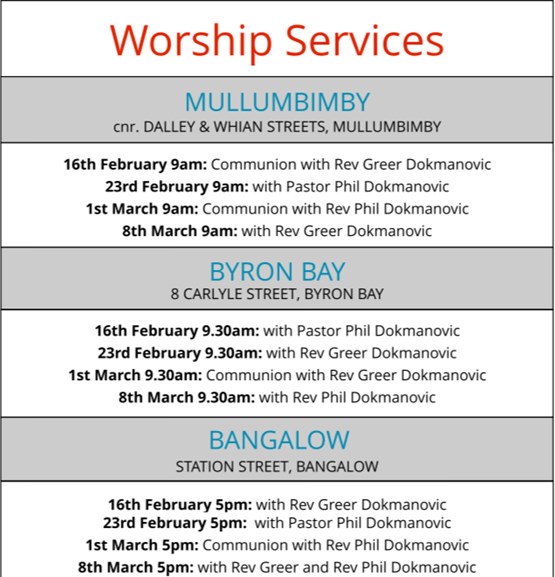 Dates for Your Diary: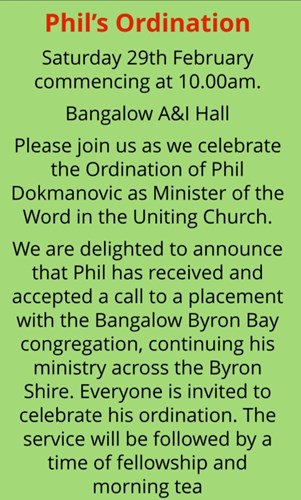 For further details see the flyer in Whats On.
RETREAT DAYS
All are invited to our Fresh Expressions retreat days in 2020, held in Brunswick Heads. 
Saturdays, 10am-4pm. L
unch & afternoon tea provided. Suggested donation: $30-50. Register with Greer.
HUSH Retreat Days: 1st February, 

4th April, 4th July,

17th October

At a HUSH retreat day you will be invited to hush the noise of day-to-day life, 

and quieten the spirit, through guided meditation and reflection. Space will be provided to  explore a variety of stations, exploring spirituality through creativity, words (our own and others'), with music and with silence.
EMBODY Retreat Days: 14th March, 

30th May, 29th August, 

28th November

EMBODY is an exploration of embodied spiritual practice through movement, voice, singing, telling, and stillness, 

all within an ethic of play.  We use the incremental forms of InterPlay to connect, create, and rest. Come and unlock the wisdom of your body. No experience necessary.
UNITING WOMEN: 
9th-12th July, 2020, in Darwin.
All women are invited to attend the Uniting Women conference in Darwin, held in July this year. Uniting Women 2020 will be a conference shaped and informed by Indigenous women's spirituality. Greer is attending, so please let her know if you are keen to join her. Costs: Individual (twin share) - $500; Individual (private room) - $686; Group* (twin share) - $470. More details at: unitingwomen.org.au
EMBODY
A Fresh Expression Ministry at Brunswick Heads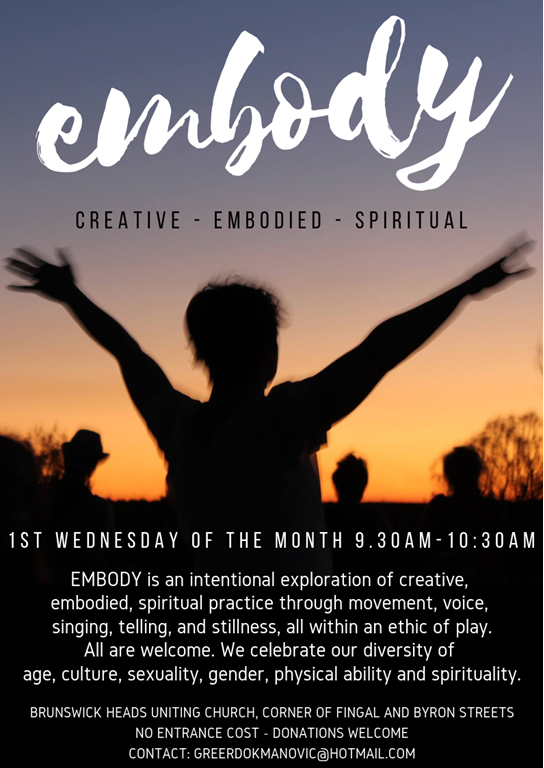 On the 1st AND 3rd Wednesdays of the month, Greer will be facilitating a new ministry in the Bruns space that will be an intentional time for embodied spirituality. Using the InterPlay forms (no experience necessary), all who come will be invited to explore and play with their experience and expression of spirituality, in and through our bodies. We will dance, move, sing, voice, tell, and play, on our own and with others, not as performance but as process. This will be an intentionally open and inclusive space, celebrating diverse expressions of age, culture, sexuality, gender, physical-ability, denomination and faith. All are welcome!
Fair Trade Fair Report
 
On Saturday 3rd November months of contacting, organising and advertising culminated in the Bangalow Uniting Church Fair Trade Fair. Although we regularly hold pre-Christmas street stalls selling Fair Trade goods, which have quite a following in Bangalow, this was our first attempt at a bigger better fair with other Fair Traders invited.
 The Variety of Fair Trade goodies was excellent and we were well supported by locals who enthusiastically bought up big whilst enjoying Phil's excellent Fair Trade coffee and munching on Bangalow ladies' cakes and slices (not to be missed). The Raise the Roof choir performed twice and were absolutely fantastic.Their home grown Fair Trade song is now doing the rounds of Facebook Fair Trade groups and gaining them fame! 
The Fair traders who came were impressed with the enthusiasm of Northern Rivers locals and are keen to do it again next year. It was great to see the church car park full of people and the church engaged in promoting an important social justice issue.
Thanks so much to everyone who contributed to the day or just came and bought things!
Corinne Nash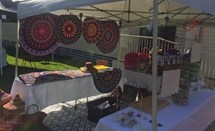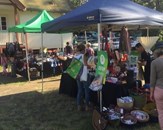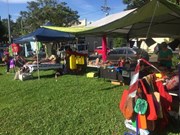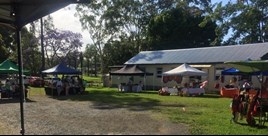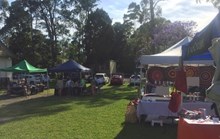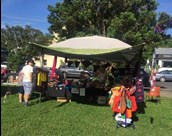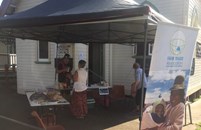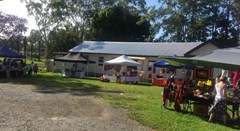 Farmer's drought appeal...
A huge thank you to everyone who gave so generously throughout the week long drought appeal. The combined total from the Byron Bay Op Shop, the Market Day at the Mullumbimby Op Shop, and the offerings at all churches on Sunday 19th August means that we will be contributing over $7000 toward the Farmers Drought Appeal.